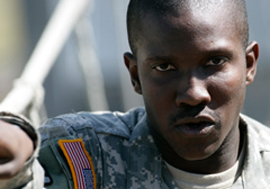 Concurrent Admissions Program (ConAP)
ConAP is a partnership between Army Recruiting Command and over 1900 participating colleges to mutually advance the goals of lifelong learning and postsecondary education for Future Soldiers. On January 1, 2014, the United States Army Recruiting Command assumed ConAP program management and now serves as liaison between Army Recruiters, ConAP colleges, Servicemember Opportunity Colleges (SOC), accredited degree-granting institutions with DOD MOU agreements, Army education centers and the higher education community.
ConAP is the Army's way of demonstrating its commitment to education by providing a plan for soldiers to attend college. ConAP goals are to increase enlistment of college-capable active duty and Reserve Soldiers; increase the number of Army Soldiers, veterans and Reserve Soldiers enrolled in college; and increase the use of Army education benefits.
ConAp - College POC
ConAp - Future Soldiers