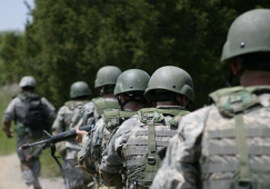 Post 9/11 GI Bill
The Post 9/11 GI Bill is an education benefit program for individuals who served on active duty on or after Sept. 11, 2001. Eligible individuals are entitled up to 36 months of benefits. Eligibility percentage is based on a sliding scale that is linked to the length of qualifying active duty service on or after Sept. 11, 2001. All Soldiers are eligible for benefits contingent upon qualifying active duty service.
What does the program pay for eligible individuals?
Tuition & fees - paid directly to the school - not to exceed the maximum in-state undergraduate or graduate tuition, and fees at a public institution of higher learning.
Monthly housing stipend - paid to the student - equal to the Basic Allowance for Housing (BAH) for an E-5 with dependents based on the primary school's ZIP code.
Distance learning program housing stipends are payable based on one-half of the BAH national average. BAH rates by ZIP code: www.defensetravel.dod.mil/perdiem/bah.html
Individuals on active duty (and the spouses of individuals on active duty) or those who are attending college half-time or less, will not receive the housing stipend. The stipend is prorated for those individuals in more than half-time to full-time attendance.
Annual book stipend - paid to the student - prorated by percentage of benefit and course load up to $1,000.
A one-time rural benefit payment of $500 Visit the VA website for the most current rates and information. http://gibill.va.gov/benefits/post_911_gibill/index.html
Some dollar amounts are subject to change each fiscal year. Please contact a Recruiter for specific information and/or values.
Montgomery GI Bill - Active Duty (Regular Army) Eligibility
The MGIB payment information below was effective Oct. 1, 2012. Visit the VA website, www.gibill.va.gov/, for the most current rates and information.
Must have a high school diploma or equivalency certificate prior to expiration of initial term of service.
Must be non-prior service or only have Initial Active Duty for Training and entered active duty for the first time after June 30, 1985.
Must have completed at least two years of active duty.
All Soldiers participating in the program contribute $1,200 their first year ($100 per month).
Soldiers completing an enlistment of less than three years receive a total benefit of $45,720 for college ($1,270 per month*).
Soldiers completing an elistment of three or more years receive a total benefit of $56,304 for college ($1,564 per month*).
*Monthly payment amounts are based on students attending full-time for 36 months. Amounts are subject to change.
GI Bill Rate Tables www.gibill.va.gov/resources/benefits_resources/rate_tables.html
Montgomery GI Bill Selected Reserve + Kicker
A maximum of $25,416 for Reserve Soldiers assigned to critical skill positions or critical units. The kicker could be $100, $200 or $350 additional per month, depending on the skill and unit. Full-time students may receive a monthly payment up to $706 for 36 months with the kicker.