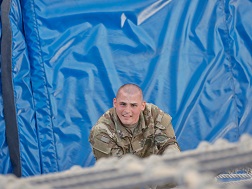 Behind Every Great Soldier is a Great Family
Welcome to the United States Army Future Soldier's website.
A member of your Family is about to join the ranks of millions of young men and woman from all walks of life who will shape the Army of the future. Each of these Future Soldiers share something special, they are about to become something larger than what they were before.
The Army is dedicated to taking care of our soldiers. This dedication doesn't stop with our current and Future Soldiers. The Army is dedicated to providing you with the support and information you need in this important part of your soldier's life. The Future Soldiers Family Member and Influencer section of the site is specially designed for you. In this area, we will be adding content and information especially for you.