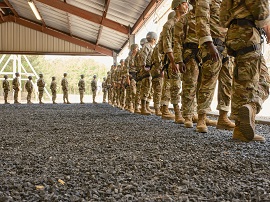 Post Entitlements
Commissary
Commissaries are grocery stores, usually located on military installations, which sell food products and assorted goods. Authorized patrons purchase goods at cost plus 5% surcharge. The surcharge covers the costs of building new commissaries and renovating existing ones. This benefit saves a Family an average of more than 30% on groceries as compared to commercial market prices, which equates to an average commissary savings of more than $4,400 annually for a Family of four.
Supermarket, food mart, emporium, bodega, five and dime. Whatever you want to call it, the commissary is the Army's grocery store, and it offers a great way to stretch the Family dollar. The commissary provides high-quality groceries at low prices. On larger Posts, it is about equal in size to just about anything you might find in the civilian community. While in small or remote areas and overseas, it tends to stock just the basic necessities, in the commissary you will still see a lot of the products and brands you are used to seeing in any local supermarket. So rest assured, just because you are now shopping Army style, that doesn't mean you won't be able to get the same products you've grown accustomed to getting at home.
Army And Air Force Exchange Service (AAFES)
The AAFES is the Army's retail-store system. In fact, it's really just a fancy way to say "shopping center," with all the kind of businesses you'll find in any strip mall or small-town square anywhere in the country. The main store, often called the Post Exchange or PX, is like a department store. Besides the main store, other AAFES facilities you might find on Post include barber and beauty shops, flower shops, gas stations, laundry and dry-cleaning stores, tailors, movie theaters and fast-food restaurants.
On most Posts, you will find a clothing store that sells official military clothing to Soldiers. Many exchanges also have outside concessions or vendors who are allowed to display and sell their wares at, for example, a sunglass kiosk or cellular phone store, in the exchange facility.
Vacation
Time off in the form of Army leave is an important component of Soldier life and well-being. Soldiers on active duty receive:
30 days vacation earned annually
Weekends free
National holidays
Sick days as needed
Army Relocation Assistance
Relocation is part of Army life. One of the things you can count on is that at some point you will relocate to a different installation, but you won't have to do it alone. The Army helps move military Families from one assignment to another and offers several different ways to assist in the transition. There is always a bit of excitement, anticipation and adventure each time your Family relocates to a new duty station. Sure you might miss the friends you've made, but each move offers an opportunity to see new places and make new friends.
As part of the Army Family you have many entitlements when it is time to move. An entitlement is a payment or benefit that is allowed by law, such as basic allowance for housing; packing, shipping and storage of household goods; and transportation costs. But to make the best of a move, you have to plan ahead and be prepared.
Legal Assistance Services
Every Army post has a Legal Assistance Center that provides free walk-in services. The attorneys on staff offer advice on personal legal matters; review legal documents such as contracts and leases; and prepare wills, correspondence and other legal documents. Legal Assistance Centers also operate tax centers, with free income tax preparation and electronic filing for active duty Soldiers, dependents and military retirees.