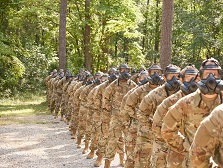 Family Services
The Exceptional Family Member Program (EFMP)
The Exceptional Family Member Program (EFMP) is a mandatory enrollment program that works with other military and civilian agencies to provide comprehensive and coordinated community support, housing, educational, medical and personnel services to Families with special needs. Soldiers on active duty enroll in the program when they have a Family member with a physical, emotional, developmental or intellectual disorder requiring specialized services so their needs can be considered in the military personnel assignment process.
Family members must be screened and enrolled, if eligible, when the Soldier is on assignment instructions to an OCONUS area for which command sponsorship / Family member travel is authorized, and the Soldier elects to serve the accompanied tour. This screening consists of medical records review for all Family members, and developmental screening for all children 72 months of age and younger. Soldiers are responsible for keeping their EFMP enrollment current as exceptional Family member (EFM) conditions change or at least every three years, whichever comes first.
Child & Youth Services
Army Child and Youth Services provide affordable child-care programs for Army Families. Costs are typically based on rank and pay grade. Programs range from day-care facilities to sports and fitness programs.
Child development centers provide full-day care, part-day care and hourly care for children 6 weeks to 5 years of age.
Family child-care homes offer full day, hourly, extended hours and long-term care in government quarters and off-post residences.
School-age services deliver before- and after-school care during the school year and camps during vacations.
Middle school/teen programs focus on sports and fitness, life skills and leadership, arts and recreation and mentoring and education for youth grades six through 12.
Sports and fitness programs are available for children up to 18 years of age and include team sports, individual sports, fitness and outreach.
Youth education support services include school transition support, instructional programs, youth sponsorship and home-school support.
Outreach programs include referrals to off-post child-care programs, parent co-ops, trained babysitters for evening hourly care and partnerships with community organizations.
Morale, Welfare, and Recreation (MWR)
The U.S. Army also offers a network of support and leisure services for Soldiers and their Families. The Army Morale, Welfare and Recreation program delivers a wide array of recreation, sports, entertainment, travel and leisure activities for Soldiers and their Families worldwide.
Army Community Services (ACS)
We equip people with the skills and support they need to face the challenges of military life... today as well as tomorrow. ACS's mission is to deliver accurate and timely individualized services to promote the readiness and resilience of the Total Army Family.
We Recognize...
The commitment and increasing sacrifices that our Families are making every day.
The strength of our Soldiers comes from the strength of their Families.
We are committed to...
Providing Soldiers and Families a Quality of Life that is commensurate with their service.
Providing our Families a strong, supportive environment where they can thrive.
Building a partnership with Army Families that enhances their strength and resilience.
We are committed to Improving Family Readiness by:
Standardizing and funding existing Family programs and services
Increasing accessibility and quality of health care
Improving Soldier and Family housing
Ensuring excellence in schools, youth services and child care
Expanding education and employment opportunities for Family members