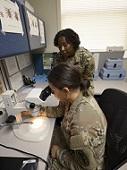 Receiving Healthcare Insurance
The training and salary you get as a Soldier are only some of the ways the Army strengthens you for tomorrow. The Army also offers money for education, comprehensive health care, generous vacation time, Family services and support groups, special pay for special duties and cash allowances to cover the cost of living.
The Army is committed to the well being of the community of people who serve and stand ready to defend the nation. Soldiers and their Families receive comprehensive health care, life insurance and generous vacation time.